If you're looking to make the most of your workout session you want to be focused, driven and energized while your training. whenever you hit the gym fatigued or unmotivated- or both- its harder to push out those reps. and if you're just going through the motions, you're only wasting time.
V-X3 is designed to help you maximize your training without the common mental crash associated with pre supps.
Does NOT contain Yohimbine or Geranamine aka 1,3-Dimethylamine(DMAA)
Creapure- Claimed as the best, safest and purest form of creatine in the market. * Your body converts Creatine into ATP, which is what your body needs for that extra mile, that extra set, that extra rep. When your ATP is gone, you are what they call, "Gassed out". The more ATP stored, the more you will push yourself.
L-arginine/L-Ornithine- When used together, these 2 amino acids help increase muscle mass and prevents muscle loss due to aging. L-Ornithine and Arginine work together synergistically to increase protein synthesis and ultimately muscle growth. *
Guarana- the berries in a plant native to South America have been shown to improve memory, concentration, and increased task performance. *
Epimedium Herb Extract- Helps dilate blood vessels, boost energy, and stimulate sensory nerves.*
Velvet Bean Seed Extract- An amino acid that converts into Dopamine which is an essential component of our body and helps with; Increased lean muscle mass, Improved mood and sense of well-being Enhanced libido & sexual performance, and increased energy levels. *
L-Tyrosine- Provides dietary support for normal, healthy nervous system activity. *
VITAMIN B3 as a flush and Vitamin B12 to help turn fat into energy.
Is V-x3 gender specific? No, V-x3™ is not a gender specific product. However, because of the body mass differences between men and women – it might be wise for women to start with half serving.
-----------------------WHY VENUTRITION?---------------------------
-I focus on giving the consumer a great formula while other companies focus on the jar glamour, athlete endorsement, and multimillion dollar marketing strategies. The consumer ends up losing at the end as these companies look for ways to cut their costs in the ingredients. You end up paying more for less.
-Price!! No one in this pre supplement industry can match my online pricing on a 30 serving (240gm) pre supplement powder with these high quality ingredients, and if they do, I will match their price.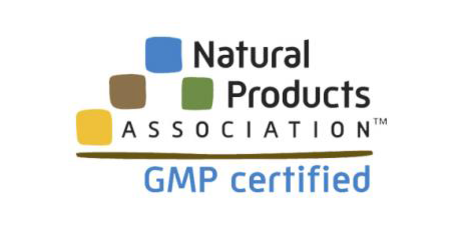 -Vx3 is formulated and manufactured in an NPA cGMP facility. What does this mean to the consumer? – GMP facilities goes through strict guidelines and inspections to make sure the consumer is receiving pure and high quality ingredients. The consumer should only purchase supplements with the GMP logo on the label. If it's not on the label, then you are purchasing a questionable and possibly dangerous product.
-I'm not slapping 300mg of caffeine in a scoop and calling it a pre supplement. The reason other companies do this is to save on costs. Caffeine is a very cheap raw ingredient. I do agree that caffeine is needed in a pre-supp, but anything more than 110mg per dose is just for fill not to mention the crash involved with supplements claiming 300mg+ per scoop.
My focus is to make sure you get the highest and purest ingredients in my formula.My other focus is for V-X3 to get you in the gym and keep you there. Why spend $35-40 dollars for a competitors formula when you're just paying for their high marketing costs but low quality ingredients.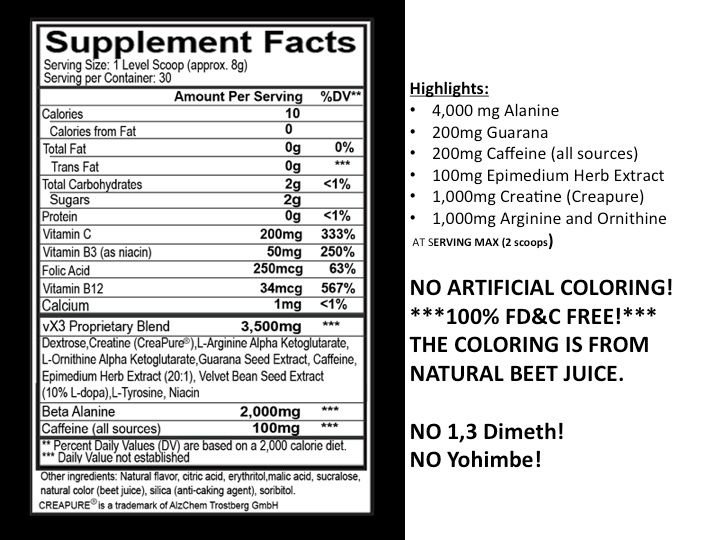 * These statements have not been evaluated by the Food and Drug Administration. This product is not intended to diagnose, treat, cure, or prevent any disease.